Saturday 25th August: Bournemouth 2 – Everton 2
Dungarvan, Ireland
The second wedding in a week meant that, despite being in the company of some top top blues, the Bournemouth game was not a top priority this week. The match kicked off while we were in church so the chances of catching some Everton action, even on somebody's phone, seemed slim. Still though, we managed to make it interesting and at one point I was even bouncing round in my tux screaming Michael Keane's name, which isn't something I imagine ever doing again.
–
This wedding being an Irish wedding was an absolute belter. Our Margie, who I've been close to for years but who I built a particularly strong respect for when we used to travel to Lourdes together every Easter, married a top fella called Keith in Dungarvan, County Waterford in the beautiful Republic of Ireland. Dungarvan didn't disappoint. It really is a gorgeous little town.
As well as the picturesque scenes, Margie's wedding was something to soak up because it gave Lindsay and me the perfect opportunity to catch up with loads of my family, who we haven't seen for ages, and before we head off for months travelling around the world. If last week's heavy wedding was about seeing friends this one was all about family. Like any good scouse family, we've a mix of Evertonians and koppites and like any boss scouse family most of us our blues. The good ones are anyway.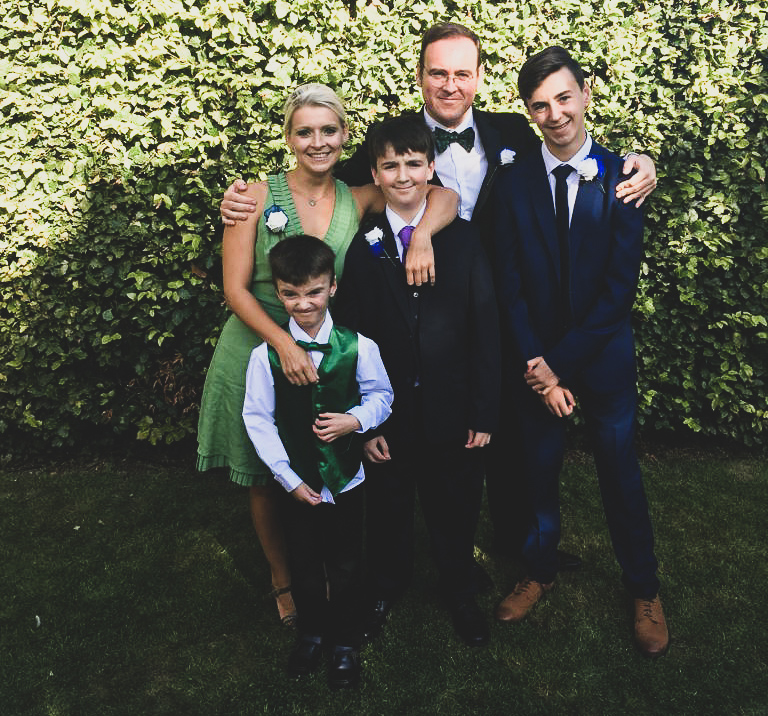 The Friday night saw us downing plenty of Guinness in the hotel bar, chatting on, and having a proper laugh. By the end of it there was just me and our Michael left, drinking pints of Ireland's greatest gift to the world with Jameson chasers and chatting about how Marco Silva and Marcel Brands are the start of a revolution at Goodison that will see us win the f$%&ing lot. The ale might have impaired our judgement though as after I went to bed our Michael went on to make some dubious life choices that night.
The day of the match then, or rather the day of the wedding sees me with a bit of a sore head. After a decent hotel breakfast, complete with our Michael who wasn't even staying in our hotel, me and our Peter head for a sauna and a steam to rinse our heads out. The shine of the whole experience was worn off a bit by the need to wear a swim cap, but we still got to lord it about and hatch a plan to whack a few quid on the mighty blues. I never bet on Everton games, but I hardly see our P, so I was down for it.
Normally I don't bet on anything as I always lose. Rather than paying for a chance to win, whenever I bet I merely pay for the chance to dream about winning. A small window where there is a possibility that some sort of winnings could be coming my way. They never come way though, even less so when it is my stupid Evertonian heart doing the betting. I enjoy the feeling enough to throw a few quid at it now and then though. To share that feeling with our Peter and some of the other blues at the wedding like our Kev and The Weef seemed like an opportunity.
After our Harry told me I needed to be tuxxed up a full hour before I needed to, I was left with nobody around, so I set off into town in my full tux (you want to be seen by as many people as possible when you look that good) to put a few quid on the footy. I had us to win and Michael Keane to score, which unsurprisingly would see us paid out nicely. Little did I know our Peter had also backed Walcott to score first and Everton to win 2-1. Again, tasty odds.
From there we caught the coach from the hotel to the church that was literally in the middle of nowhere. It was a truly beautiful part of nowhere though and County Waterford can be proud of itself there like. The priest wasn't at his best though. It took him a good minute and a half to remember Keith, now our Keith's name when he was giving his homily and never let the footy scores slip once. Oh well, he might have just been in a bad mood because the pope was in Dublin and he had a gig in Dungarvan.
On the way back to the hotel our Greg let me get the Everton game on his phone in the back of his car and as soon as nowhere turned to somewhere and there was enough mobile signal to hit up a Reddit Soccer Stream I was in business.
I'd missed the goal, but the blues were winning. Richarlison had been sent off though. If I was worried about being down to ten men and losing our new star man though, I needn't have been. Just as we were arriving to the sun-drenched garden where they were serving drinks and canapes after the mass, Michael Keane was rising majestically above the Bournemouth back line to put us two up. The screams and the language that came out of me were inappropriate for such a formal occasion, but I stand by them both. Come on Blues. 2-0 up and money coming our way.
Not quite though, because we're Everton aren't we. Despite Bournemouth losing a man and evening it up to ten men apiece we conceded two goals and ended up with only a point. To be fair though none of us really watched much of the match after the Keane goal. She never said anything but our Moira, the queen of the blues, wasn't crowding around the little iPhone with the rest of us. It gave us all the feeling that we needed to be involved in the wedding a bit more than we were, and the phones weren't really delivering a top experience anyway. She's a wise one our Moira and feels the blues in her bones. Maybe she knew what was coming and was shielding us from it.
In the end, we never let the result bother us and we just got on with the great wedding we were all made up our Margie was having. The result did hit us briefly though, when me and our Peter realised it was Walcott who had scored Everton's first. Would have been a decent win that, to add to the Keane scoring winnings, if we hadn't conceded that bastard second. Maybe it did bother us. That's Everton that though.