Saturday 18th August: Everton 2 – Southampton 1
Goodison Park, Liverpool
Is right Figo lad, you never let me down. Lindsay and me are in Liverpool to see two of my best mates get married, the day before the first Everton home game of the season and, without having to ask, you box me off with a free ticket to the match. In the Street End no less. Boss lad. I'll happily sing All My Friends at the top of my voice from the highest point on Penny Lane with you any time.
For years I sat in the Gwladys Street end of Goodison Park. The Old Lady can be a fiery beast but behind the Gwladys Street goal is where she always heats up first. I got my first season ticket in the Gwladys in my teens and then kept it up through my stint at university in Wales. I used to have to get up around four in the morning to make the first train out of Aberystwyth. A job in Libya proved a step too far though and my seat (it's been over ten years since I had a season ticket for that seat, but it will forever be mine) is now being kept warm by another young Evertonian. The Gwladys Street though is one of those places that will always feel like home to me. I might not be sitting in my seat, but I am certainly going home. Is right Figo lad.
It is easy falling back into the pre-game routine. Despite feeling precious after a sick wedding the night before (Is right the Bramwells) and a long and loud walk home down Penny Lane, the lads are quick to get back on the ale in The Ship and Mitre, which is one of the best pubs in Liverpool City Centre. After a dubious cider and a couple of pints of real ale we jump a big cab towards County Road. It isn't just the football that has me buzzing for this one. Living away obviously comes with its fair share of downsides and the biggest is missing people and the normal stuff you get up to with them. Getting to go the match then with mates like Figo, Millar, and Jaffa is an absolute treat. Jaffa's surprise Mexican contingent adds a little spice to the affair too.
Time flies though, and by the time we've grabbed a scran we're running late. We make it to the Spellow at the top end of the ground, but we miss our Moira and Michael. We need to just get in the ground now as it is pushing a quarter to. We're all in separate stands so we go our separate ways, I get in the ground and my seat is laughing. Happy days.
My dad always says that he is a football fan first and an Everton fan second. I always tried to emulate this honourable way of looking at our sport, but I could never get it right. I love Everton and football can be alright sometimes I guess. I reckon this all comes down to feeling so at home at Goodison Park and all the emotions attached to that feeling come rushing back when I go to try and find our Michael before the match kicks off.
Our Michael is still there in his old seat, you see, right next to my seat. Our Kev gave his seat up first, then I went abroad, and then finally, two seasons ago, his mum, our Moira, went to the Upper Gwladys to sit with another contingent of blues we know. Our Michael is still there though, on his own but far from alone.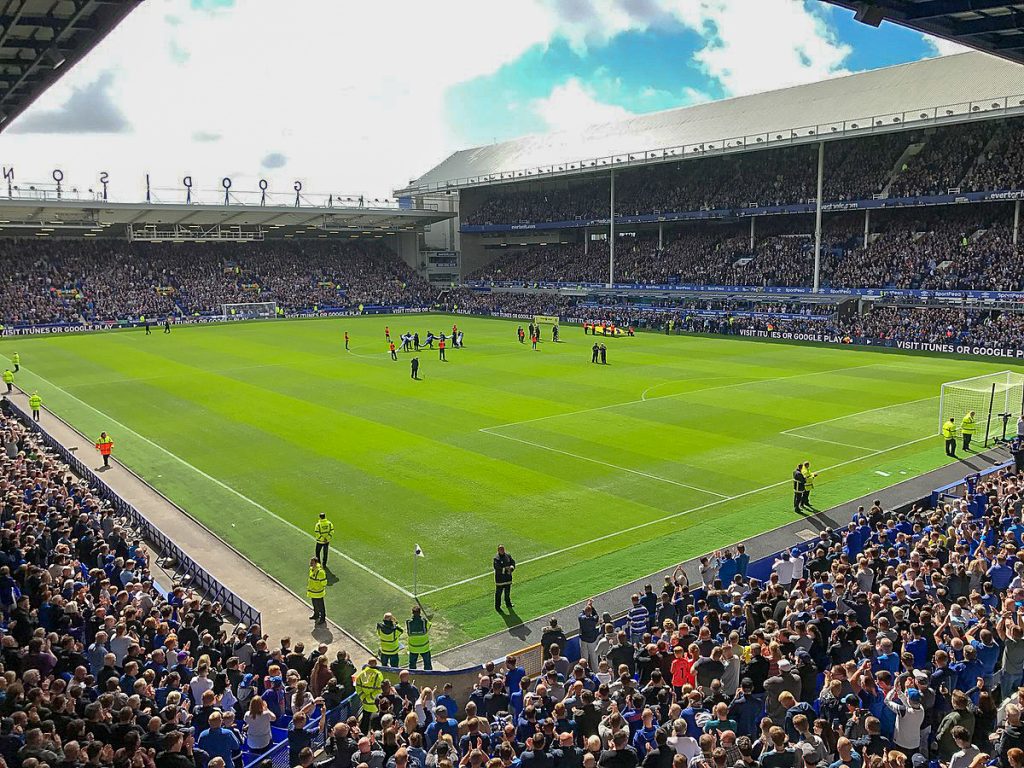 For me, when I think of a home I think of a family and despite not having had a season ticket in the Gwladys Street for a decade my Goodison family is as glad to see me as I am to see them. Our Michael isn't even in his seat but by the time I go back to mine I'm buzzing. Jackie and Bill are from Southampton and they drive up to Liverpool for every home game. That is a fair whack of a distance like and they've been doing it for years. When Jackie sees me coming up the stairs she explodes and runs over to embrace me. Bill is calmer and more collected but he nearly rips my arm out of its socket when he shakes my hand. With a fat grin on his face he is like, "We're going to do these today. Get into them. It's going to be a good season." Yers, is right Bill, let's get into them. Julie is there too and Andy, who I haven't seen for years. Plenty of the moody heads are around and about too, no doubt still with their moody shouts to throw out there when the chips are down. Michael doesn't turn up, but he doesn't need to. I'm home, I'm happy, and the match is about to kick off, so I'll catch him at half time.
Let's get into them blues.
This is the first home game since last season's shambolic showing. I only caught two home games last year and we got smashed in them both. They saw Koeman off. I was lucky enough to not be able to make it to any of the games when Sir Bellend Bungalot was in charge, but everyone else in the ground had to sit through the lot and it shows. The atmosphere is tentative to say the least.
The lad next to me takes a while to warm up, he only sees the bad in everything and only ever grunts in disapproval. The blues though seem determined to hit the ground running and that is more or less what they do. We still look edgy at the back but going forward we're something else. A beautifully worked free kick puts Walcott through, 1-0, and then a Walcott cross sees Richarlison make it 2-0. Silva smells blood and wants more but I'm kind of glad we don't get a third as, despite his slow start, two goals and attacking football has the lad next to me buzzing. He reckons if we'd have scored a third he'd have been off to the bog for wank.
By half time we're 2-0 up, the whole ground is buzzing, and the impressive new toilets (good to see that Arteta money finally being spent) are unsoiled. Even better for me; even though the ground is sold out and there is barely an empty seat in the house, there is an empty seat right there by our Michael. It's not my seat but it is close enough for me to tell the new lad sitting in it to look after it for me, and that even if he never gives it up, I'll be back for it on our last game in Goodison before we move to the banks of the royal blue Mersey.
I spend the second half mostly chatting to our Michael and we only half pay attention to the match. Everton miss a few chances and our defensive frailties see us concede a goal. We see out an edgy 2-1 win and we've four points on the board from our first two games. Not too bad.
I won't be back these ways for a while, so we take our time leaving the ground and then head to The Spellow. We catch up with the lads again and meet our Moira and a few old heads to go through the ups and downs and ins and outs of the early days of the Marco Silva era. We all know there is still work to be done, particularly at the back and what about that zonal marking. It is refreshing to see us going forward with purpose again though.
From there we catch a couple of pints on County Road and then head off back to Day 2 of the heavy wedding, feeling good about ourselves. Is right Everton. Unlike Figo you do sometimes let me down, but we'll have more of this please. Let's get into them blues.