Saying goodbye to Argentina
My last meal in Argentina was filete rellena. It couldn't have been a more fitting final meal to see me off from this fantastic country.
The waiter brought me this ridiculously huge steak. The sheer size and scale of the thing was beyond my comprehension. I knew immediately I was in over my head and I'd have to compose myself, if I was going to get through it.
It then became apparent that this big and beautiful beast was not what I expected. Just like many times before in the four weeks leading up to that final meal, I hadn't understood perfectly. I'd pieced together the bits I'd picked up and pushed forward as if I knew what I was doing. This time, just like all those, I got something I wasn't quite ready for but ended up loving. The waiter served up something much better than I ever could have hoped for.
Writing this now I feel like it has been a tough four weeks, but I need to berate myself for this ridiculous sentiment. Argentina is a rich country, riquisimo, and the only reason I feel like it has been tough is because I've gorged myself on all its finery. If Argentina was tough on me, it is only because I could never resist and was always seduced. I'm sat here now on the bus to Chile more than a couple of kilos heavier than I was when landed in Buenos Aires. Feeling the worse for it, but positively glowing from the indulgence. Who the hell do I think I am?
All that though, all that is why I headed into my last meal in Argentina wanting nothing more than a steak and some salad. A fine meal in itself that wouldd normally be beyond the budget of a traveller like myself, if I was in a country that had a normal relationship with beef. I knew that filete rellena meant stuffed fillet, but I switched off when I read garden salad. I saw what I wanted and I ordered it.
When my steak came out it blew me away and it left me a little bewildered. It was the biggest thing I'd ever seen, it looked raw, and where was my salad. I cut into the fillet steak and all became clear. My salad was inside this monumental piece of meat, but there was much more goodness in there too. Oh yeah, it looked raw  because it was wrapped in pancetta. It might not have been what I thought I ordered but every bite, every taste brought with it something new to delight my tastebuds. I washed down every bite with a delightful Malbec from Mendoza. Salute Argentina, I will miss you.
A few of our favourite Argentinian wines
What a bloody cliche though. Argentina is much more than the steak and the wine. Much more.
I can't compare that final steak to Argentina because I finished it all. All gone. With almost a month in Argentina behind us, and just a couple of hours on a bus ahead, I feel like we've barely scratched the surface. The steak was big and a true delight to the senses, but it was nowhere near big or delightful enough to be able to represent the country that cooked it up.
–
So why is this the case? How can we have filled so much time with so many incredible experiences and still feel like we've barely scratched the surface?
To begin with, this is a big place. Argentina starts at the end of the world and makes it around two-thirds of the way up to the equator. A month is never going to be long enough to cover such a huge country. Brazil is the only bigger country in the whole of South America.
We started halfway up and only headed north. Before we'd even begun we'd left the glaciers of Patagonia and the beaches of Mar del Plata behind us. By the time we'd seen Iguazu, the vineyards of Mendoza lay too far South and so tantalizingly out of reach. We were always going to miss out a lot that shouldn't be missed, but we only ever did so because there was too much pack in.
To get around this vast nation we've been travelling from place to place by bus. Epic huge double-deckers with leg room like you wouldn't believe. Every inch we had though, we needed as we never rode a bus in Argentina for less than 10 hours. Our longest journey was a ridiculous 18 hours and they served us lunch, then dinner, and then breakfast the next morning. It was ridiculous.
We always travelled at night. It makes perfect sense to travel on night buses, if they're available. You don't have to sit around for hours on end, you can sleep. You wake up a couple of hours out from where you're headed, you've saved yourself a nights accommodation, and you're well rested enough to be able to hit the ground running wherever it is you've landed.
It makes perfect sense, but falling asleep in one place and waking up in another can make your trip feel disjointed, your experience like a number of independent events rather than a single coherent journey. As if to illustrate this point perfectly, we've just pulled into Purmamarca and it is pitch black outside. If it was light, however, we'd be able to see the epic cerro de siete colores, but it isn't so we can't. Does travelling only at night add to this feeling of having barely scratched the surface? I suspect so. We've already booked our first bus in Bolivia, where we'll go to immediately after Chile, and it is a night bus. Perhaps after that we should try travelling by day and see if it allows us to feel more connected with the land as it flies by our window. I'm looking forward with glee to when we'll meet our bikes in Malaysia and spend the rest of our time travelling at a more engaging pace.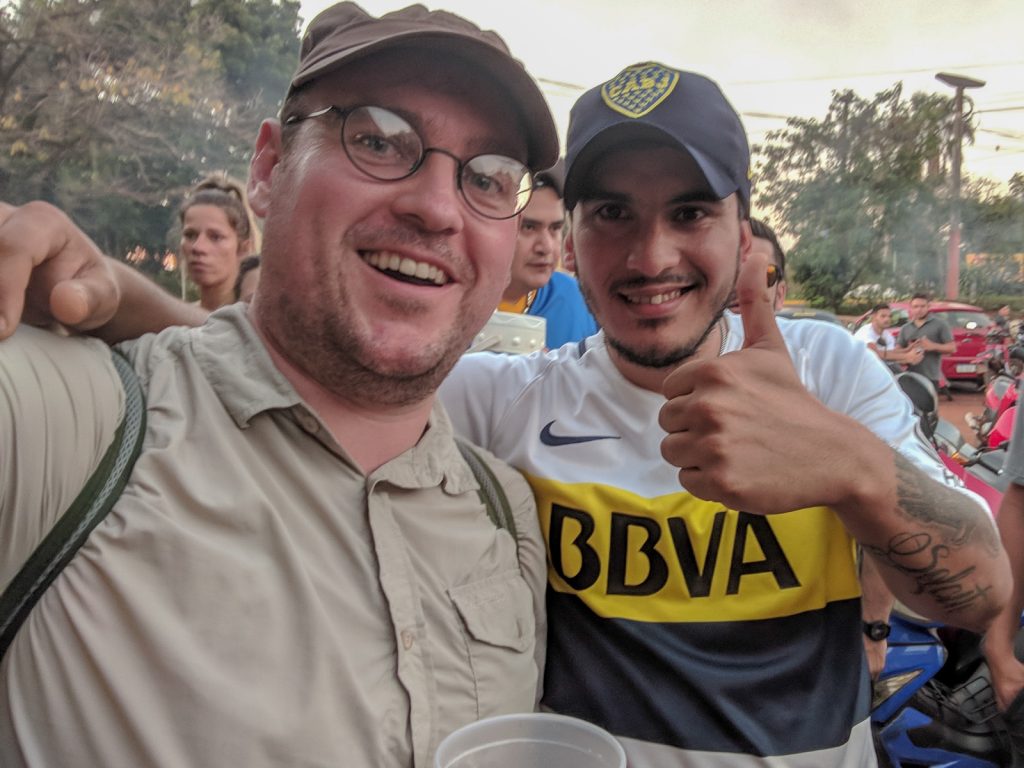 Despite this feeling of shortcomings defined by limits of time against potential experience, our time here has been truly riquisimo. Perhaps this is why I feel this way now. Almost everybody we've met we made friends with, yet I feel sad because we didn't meet everybody. Everywhere we've been has delighted and inspired us in one way or another, yet I feel regretful almost that we never made it everywhere. This is nonsense of course, born out of my current trajectory out of a country that I've grown to love, but I almost feel a grief for the opportunities we've missed rather than a joy for the experiences we've cherished.
The joy is there though, and it always will be. This feeling inside will evolve and develop, and this silly melancholy will lift and curiousity and desire will replace it once again. This in turn will fuel us both as we push further north through the great continent of South America. We'll never see it all, but that is OK. I've learnt that at least.
All that is left to do now is take the time that we have and look forward to what we can fill it with. Now might not be the time for looking far into the future, but with mere minutes between here and the border it feels good to know that with the four weeks we've just had behind us, should we choose to look far enough into the future we'll somehow see Argentina again.