Sunday 23rd September: Arsenal 2 – Everton 0 and Boca Juniors 0 – River Plate 2
Puerto Iguazu, Argentina
Jesus, this was supposed to be easy, it? A simple section on my travel blog where I talk about trying to watch Everton while I'm going to loads of places around the world I've always wanted to go. I'm an Everton fan though so nothing is simple. With greatness in my DNA and with nothing real to cling to for over 20 years, and with a dodgy start to this season, I'm here, thousands of miles from home, searching for meaning in something that has nothing to do with me.
Football matters, doesn't it? My passion as a supporter means something at the end of the day, no? We can change the way they play on the park, can't we? Is a football club not only as big as its fanbase?
Have you never felt or thought something like that?
I'm no ten-bob pundit stealing a living. I've opinions about the blues, often strong ones, and I'll share them with the lads on WhatsApp, but I don't think I know anything more than most. If I don't get to watch the match, then I can't pretend to know what is going on like those that do. I'm out here trying though. I know I haven't been going regularly for years because of life choices I've made but I never miss a match I don't have to. I'm a scouser who is away from Liverpool and I'm writing about my efforts each week to see Everton play. Considering where I am and where I'm going, missing the match is probably going to happen a lot, like it did today. When it does though, I'll probably end up chatting on about what it means to be a Blue or something to that effect. Bear with me.
I mean, to all you Blues out there who watched the full 90 minutes. We pressed against Arsenal away, we attacked against a "top 6" team who we've rolled over to for almost as long as we last won a trophy. We missed our chances though, and they took theirs with two of hottest strikers in Europe. Remember when Twitter linked us to Lacazette and you laughed? I did too. Was it more frustrating for you watching the whole match and feeling like this could be what you've been waiting for, only to lose it again at the end, or was it more frustrating for me who only ended up catching about ten minutes of it on my phone, but still had to deal with the same result? Is our pain the same? I suspect, nay, hope that it is.
–
We crawled off an 18-hour bus journey from Buenos Aires to Puerto Iguazu at 08:30 local time and the match was kicking off at 12:00. Despite West Ham at home last week there was no way I wasn't trying to find Arsenal away. No way. Something about the game being on Sky alway makes me think I'll find it. Lindsay said she was up for coming too so we got to our new gaff, mooched about while they cleaned our room and then rushed into town to try and find the Arsenal game we'd eventually lose 2-0.
It was this rush to catch the match that had me on Facebook, within minutes of throwing my backpack down onto the floor of our new room, rather than getting a shower. It was this rush that had me frantically searching for somewhere, anywhere, to watch the blues play in a game we've barely came close to winning for more than two decades. It was this rush that found me the official supporters club of Boca Juniors in Puerto Iguazu, on the day of the Superclásico no less.
Boca Juniors v River Plate is one of the most passionate derbies in the world. It has got to the point where they can only allow one group of fans into the stadium at a time. When Boca play at home only Boca fans are allowed in, when it is River's turn only River fans get the chance to watch the game in the ground.
We went to see River play last week, and it was a treat, but that was down to the fact that Boca were playing away. Also, for the two big Buenos Aires clubs you need to be a member to buy tickets. If you're from out of town you need to be lucky or rich to get tickets to a game and we were lucky. We had the chance to go and see River play an we took it. I've always felt like a Boca fan though. They're from a working-class neighbourhood and they represent the every day people. Plus they were Maradona's club. When searching for the Everton game led me to the Boca Juniors supporters club on the day of the Superclásico I was buzzing.
After chatting to them on Facebook they said we'd be welcome for the big match at 17:30 and to come down to see if they could get the Everton game at midday. We went and arrived about 12:05, five minutes after we'd kicked offat the Emirates but they couldn't get it. I asked about anywhere else that might show English football and they mentioned a place a couple of blocks away that showed La Liga on a screen outside that could be worth a try.
Expecting a bar, Lindsay and I headed down. What we found was a shop with a few patio chairs and tables outside and a screen playing a local match, with Tigre playing against some other team I've never heard of. Fifteen minutes in to our game, what could I do but ask the nice lad behind the counter, selling the Argentinian version of 10p mixes, if she could get English footy on her TV. She reall was a nice lady because said she'd try, and we spent the next ten minutes flicking through her sports channels. It looked like Freeview, and a stint on the remote at a burger joint later confirmed it was, but there were a lot of sports channels to go through. She stood in the shop pointing the remote at the box while I shouted, from outside, things like, "No, Allemanya, mas. No es La Liga, otra vez por favor." After we'd been through the Spanish, German, Dutch, and Italian Leagues we hit a tele-evangelist and I knew it wasn't going to happen.
As we were going through the different leagues I really thought we were going to get it. As soon as we didn't, all I could think was we'd have won, if we had.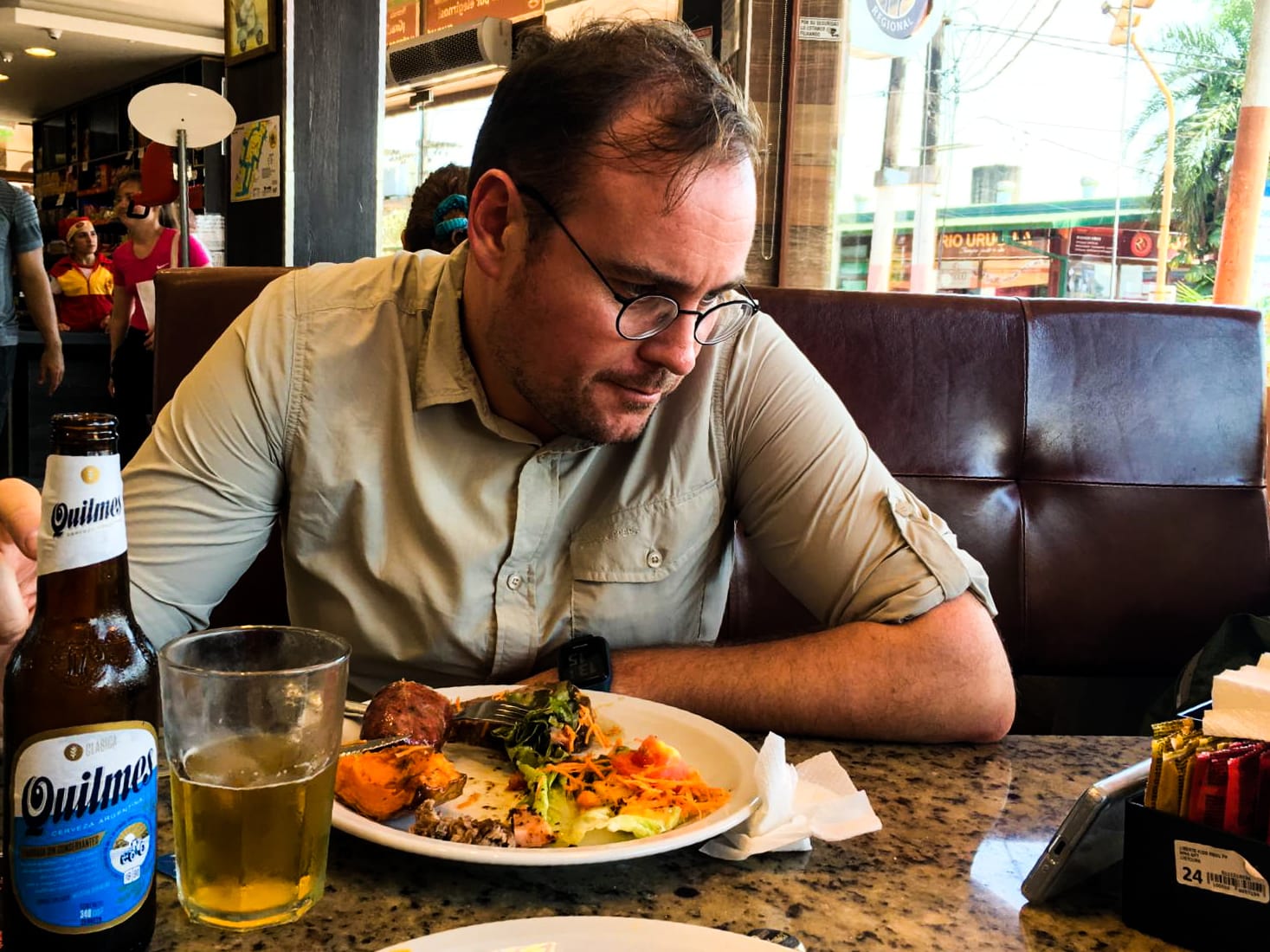 We failed, then we went somewhere else and failed again. After the second failure we went looking for somewhere to eat that'd have Wi-Fi, so I could watch it on my phone while we got some much needed scran inside us. It took an age to connect, then we got our food, and it had gone cold before I got a decent stream on my phone. The match was about 50 minutes in at this point.
For a few glorious minutes we looked great and my dad had messaged to say we'd been going at them in an open first half. We had two wingers that were pinning back their full backs and a young scouse captain who was bringing the ball out from the defense and playing it forward. It was Everton, Everton, Everton, then the stream went down.
By the time it came back up we were 2-0 down. Fuck. Sake. We're cursed, aren't we?
It was a struggle from there getting anything more than a few seconds of the match on my phone without having to refresh the stream. We stayed in the restaurant until the end though and I put away a couple of Quilmes while failing to watch us fail to win at Arsenal again.
–
After our match was over Lindsay and me explored the town we'd just arrived in and had a ball. We found a restaurant that stared out onto the border with Brazil and Paraguay and drank one of our least favourite bottles of Argentinian reds so far. By the time we headed to the Boca Juniors supporters club we were half cut.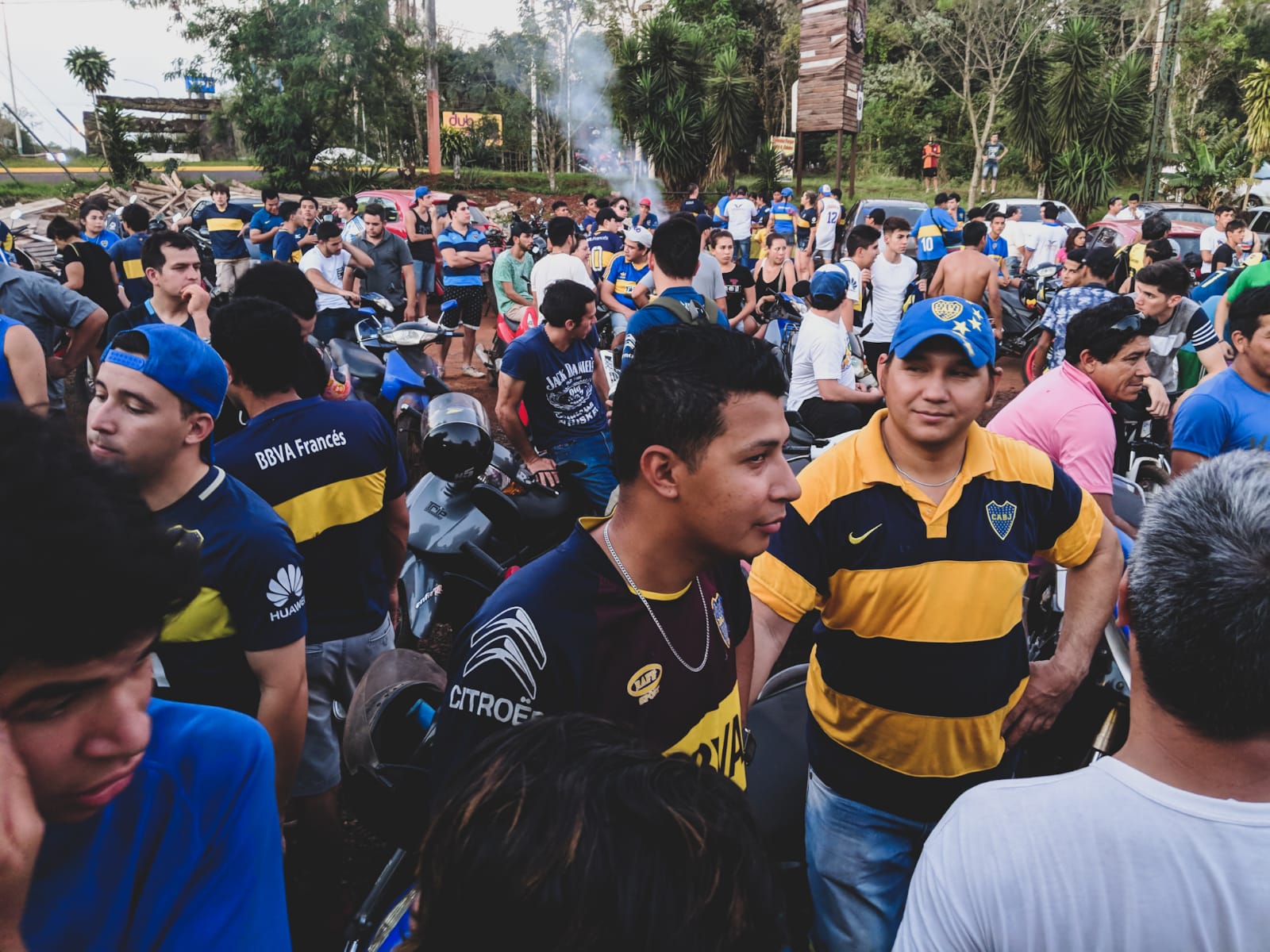 Sitting on three borders, the Peña Cataratas Xeneize, Puerto Iguazú attracts Boca fans from Argentina, Brazil, and Paraguay. After the match at Estadio Monumental last week we were both excited, but neither of us had any idea what was waiting for us. The atmosphere in there was absolutely amazing. Outside there were around 100 motorbikes, a bar selling beer, fiery barbecue, and a TV. Inside there were a few hundred Boca fans, a band and a big screen.
Watching the match there was amazing. The passion coming out of the fans was staggering, and everybody was extremely welcoming to Lindsay and me, and Clement and Estelle who we'd met when we landed at our new place earleier that morning. I saw a lot of familiar emotions there too, going all the way from supreme confidence to disbelief. Most of all though, it was just joy. Pure joy to be watching Boca play one of the biggest matches of the season with loads of other Boca fans. We felt it too, and got right involved.
It was so hot inside the club that we watched most of the match outside with plenty of other fans. As 60 minutes approached though, I needed to go inside. At Goodison, when the team needs us the fans deliver around 60 minutes in. I wanted to see if the same happened for Boca. We were't at La Bombonera but everybody was acting as if they were. There was energy coming from the stadium and I'm sure there were plenty of people in the room with me who thought they were sending energy back too.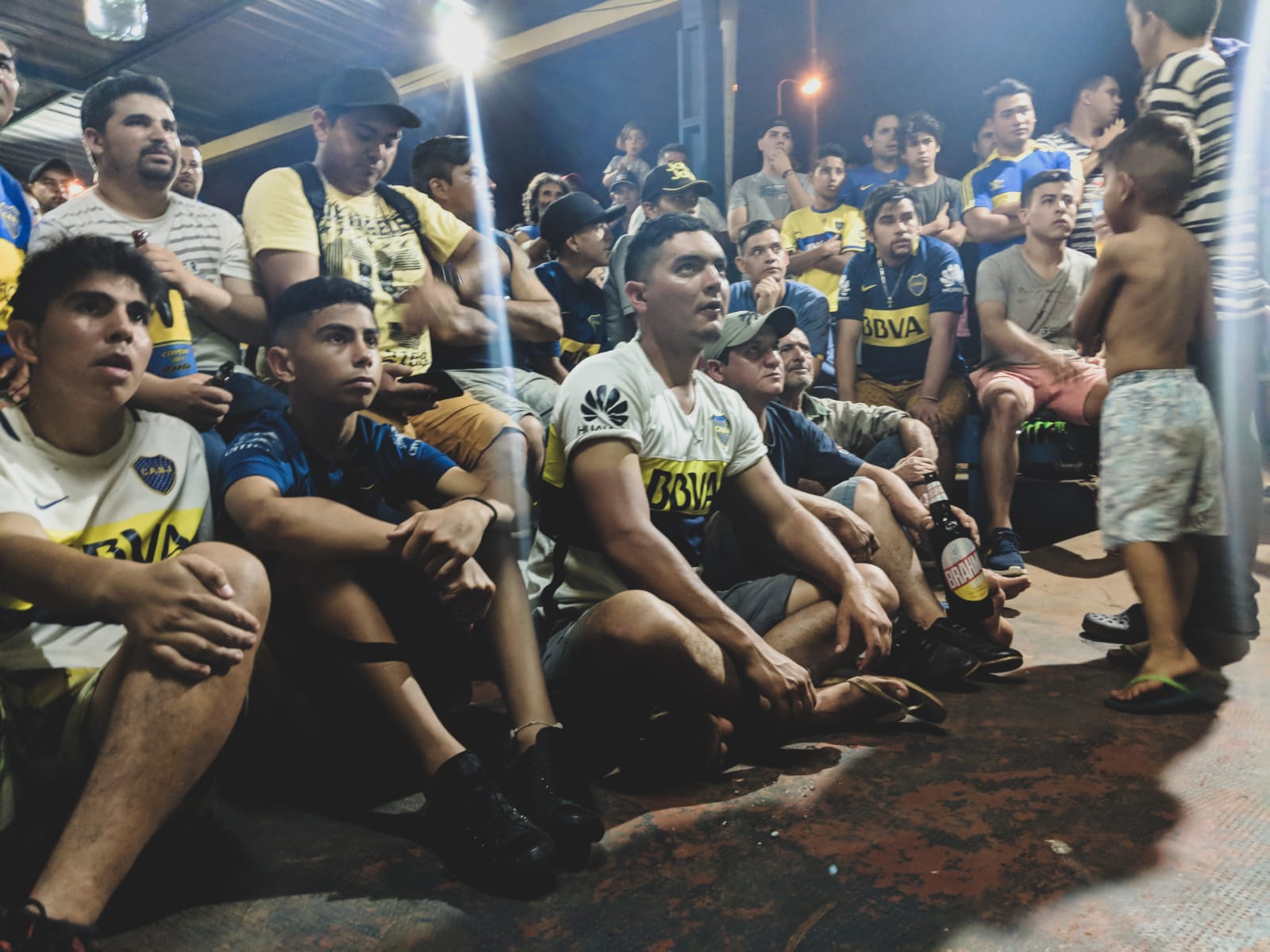 There was no stepping it up a beat at 60 minutes though because the band hadn't slowed a beat. There was no way for the fans to throw more out onto the pitch because they'd been giving it all for the whole match. Then River scored again. The wind escaped the Boca fans in Puerto Iguazu for maybe a split second, but then the beat of the drum kicked off again and the sweaty mass of blue and gold at the back of the room kicked off once more. It didn't take long for everybody else to follow. They were not defeated and wouldn't be even if turned out that their team would lose that night.
Boca lost. They were the League Champions, playing at home in a stadium with no away fans, in the biggest league game of their season, and they lost. How the hell did that happen? I'm not going to go on about Merseyside derbies now, but at that moment, right there I was convinced I was cursed. As an Everton fan I couldn't enjoy the positive emotions attached to a derby win. Not only that. Had I infected all the Boca fans who'd welcomed us into their home to watch the Superclásico with them? Boca lost because we're cursed, aren't we?
But the band kept playing, the singing got louder, and everybody in the room came closer together. What a moment that was. My thoughts of the lost victory I'd never get to share with the Boca Juniors fans on that night disappeared, as the spirit those same fans showed blew me away. Boca weren't cursed. We all got right in the mix and sang and danced away with them. We beat the loss. What a night!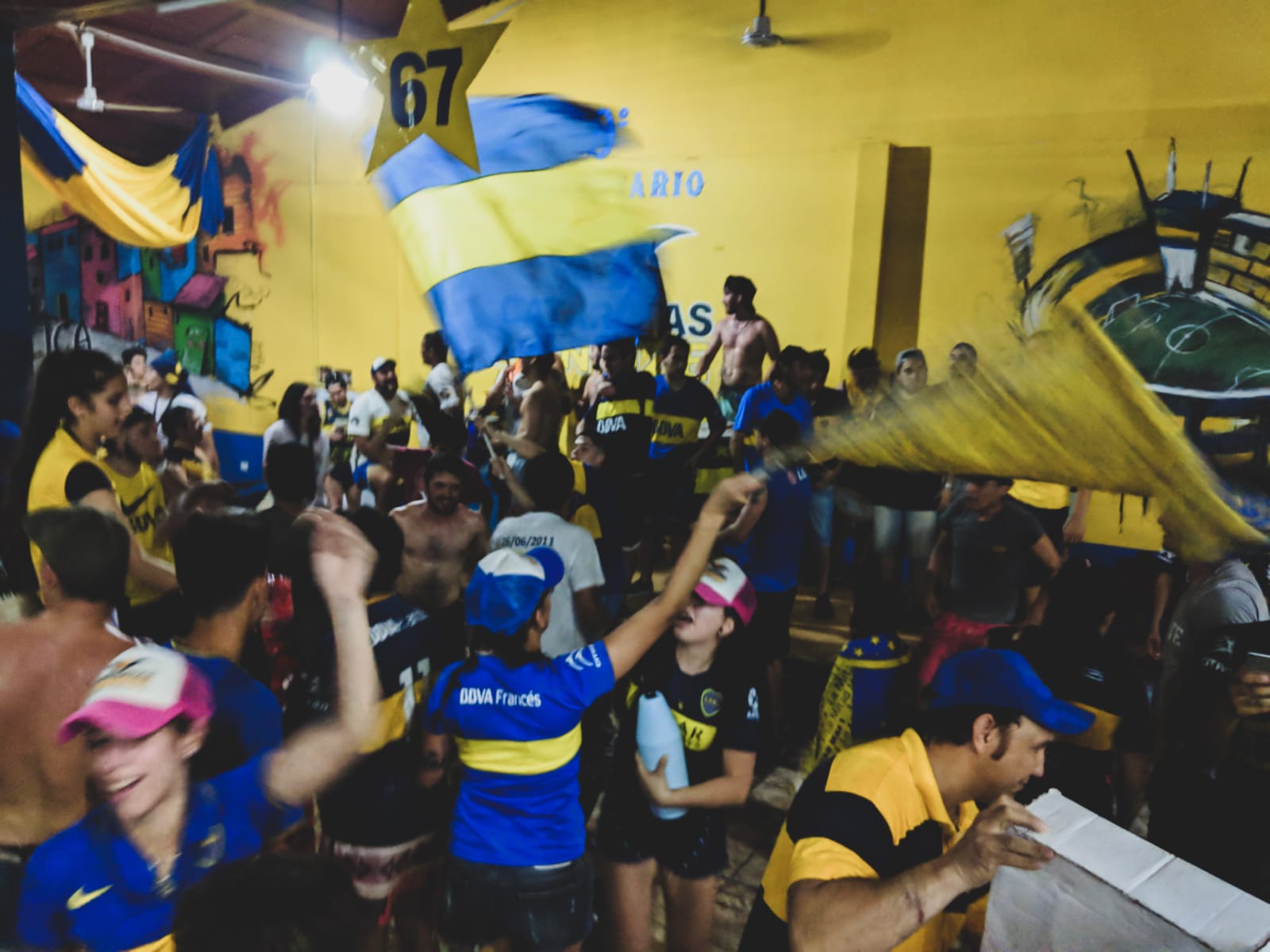 –
I'd have had none of that, if I hadn't been looking for Everton. I found something special because I was looking for something impossible. A place to watch Everton win one of our most unwinnable fixtures, in a remote town in the heart of South America. I know I won't be finding anything like that next time. It was a once in a lifetime experience.
Next time though, I won't be looking for a game deep down you'd expect us to lose because I'm expecting something like that night in Puerto Iguazu. I'll be looking for that match because we are Everton, aren't we! I'll always look for that match, if I think there is a chance of finding it and probably if I don't too. And then when we finally win that match, against the team we can't beat, and in the ground where we never win, do you know what I'll say? "I fucking knew it. Come on you Blues."